Offer to universities: hydraulic analysis and modeling in ZuluGIS
Politerm provides university students with access to its software for the duration of dissertation writing
If you have any questions about accessing Politerm products, please contact us at aaa@politerm.com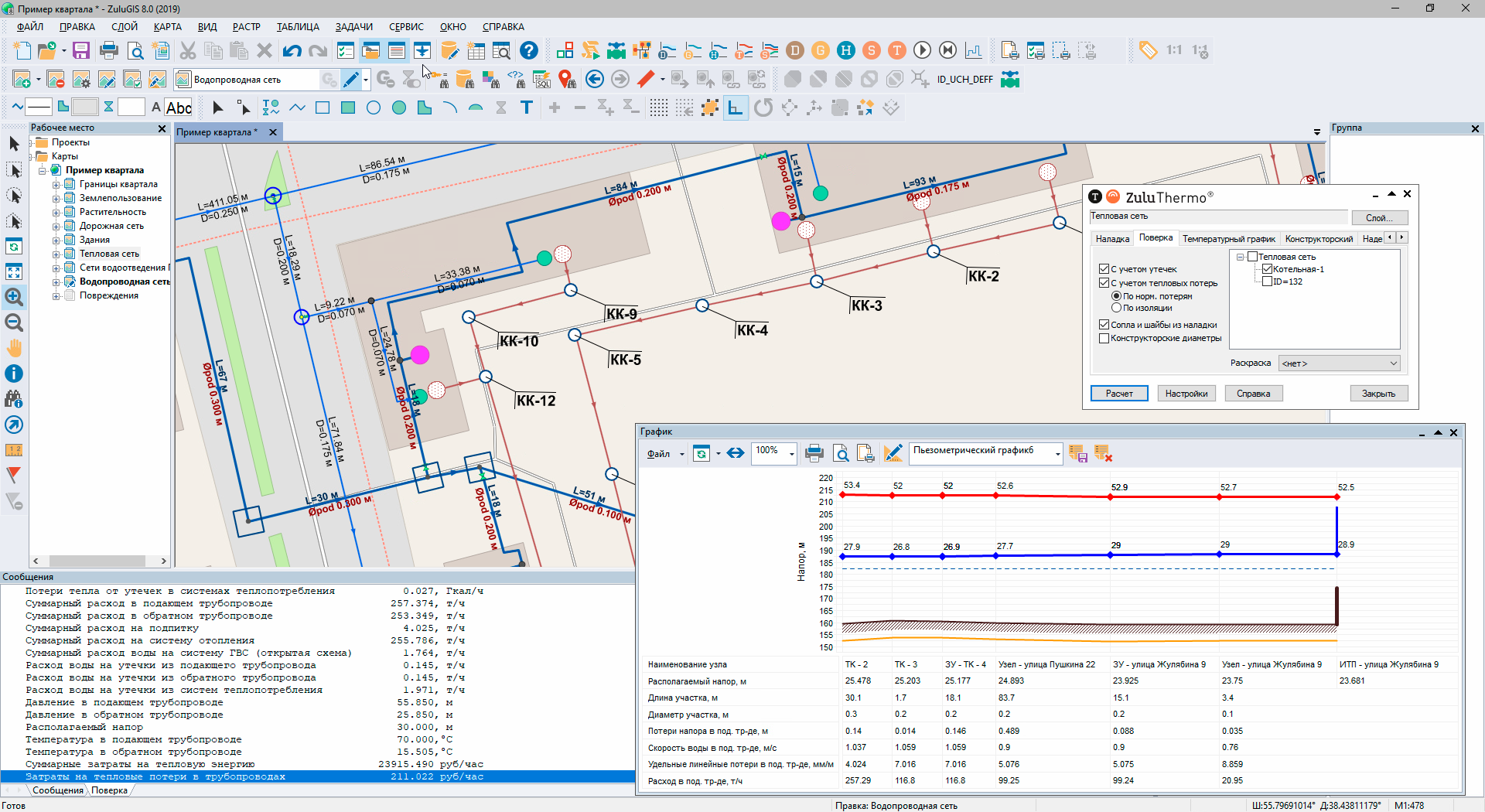 Employees and students of higher educational institutions are offered an excellent opportunity to supplement their study process with a powerful modern system. The ZuluGIS system is currently used in hundreds of cities across Russia, by leading organisations and large enterprises. Our software has been installed in 61 higher education establishments in 41 Russian cities.
While the ZuluGIS system and its analysis and modeling modules are not study guides, they are exceptional tools for completing laboratory research, term papers, and dissertations. They offer a user-friendly interface that resembles Microsoft Office and Autodesk products, and meet the demand for high-speed hydraulic calculations and analysis when solving engineering problems.
For academic courses related to utility systems (water supply, heating, hydraulics, etc.), the straightforward input of a topologically linked network (by drawing, without tabular coding) makes it possible to design a small utility network, set parameters for its elements, complete a comparative analysis of several hydraulic or thermohydraulic calculations, print out a network diagram and analysis results, and build piezometric graphs, all in two academic hours. Watch our video tutorial on data input and calculations. It does not matter how complex the utility network is going to be, or how many loops and sources it will have.
Those who want to practice their skills in object-oriented programming have the option to create their own GIS and other apps in Visual Basic, Delphi, Visual C++, using our object model or web services based on ZWS commands.
Without a software license agreement, all our software products are accessible in demo mode. Read more about the limitations of a demo version here.
See also:
Team project on the digitalization of urban economy by the students of Herzen University's Geography Department
Thesis "Reconstruction of a gas supply system at the industrial heating plant"
Thesis "Reconstruction of water supply pipelines at the Ulan Ude CHP-1 plant"
Three students are the first to defend their theses using Politerm products